And in a completely unrelated note from the one below, mark your calendar to check out this weekend's 10-yr. anniversary Sunday Funday party at Motor City Bar in New York's LES.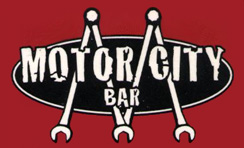 Motor City Bar is a garage/punk rocker's dream dive bar, with great DJs spinning awesome rock tracks from the last 50 years, while shots go down like water next to cans of PBR. In essence, a drink drank drunk bar that has withstood the LES gentrification trends. I don't guzzle half as much as I used to, but during my '99-'01 prime LES days, we stopped in often.
Most importantly, I'm excited to see Some Action and the Swinging Neckbreakers, two bands who understand the meaning of "loud" and "fast"!